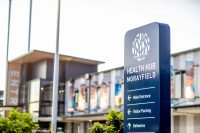 Health Hub Morayfield is a game changer in Australian healthcare. This multi-million-dollar facility introduces a new model of healthcare where the silo's are removed and where research, education, allied health, and medical services work in genuine collaboration to provide an integrated approach to improving the healthcare journey for individuals and their families.
This comprehensive, fully-integrated, multi-disciplinary centre was completed in March 2018. From December 2017 the Health Hub had already begun providing early services through the embedded medical center, Health Hub Doctors Morayfield. Over the following 12 – 18 months the centers tenants began their fit outs and commenced operations.
The Health Hub Morayfield is an evolution from a traditional primary health care center, and includes primary and specialist ambulatory care services and acute services that are designed to complement and support already established health services in the local area. A comprehensive needs analysis identified the area's service gaps and incorporated the relevant clinical requirements into the Hub concept to cover the disparity of services across the local area.
There was strong recognition of the clinical astuteness of the project with expressions of interest for over 90% of its net-lettable area from a range of tenants including blue-chip tenants.
Current tenant mix
• Health Hub Doctors Morayfield
• Terry White Pharmacy
• X-ray & Imaging
• QML
• ihear
• Relationships Australia
• Blue Care
• Open Minds
• 1300 Smiles
• University of the Sunshine Coast
• Bluebird Early Learning Centre
• Meet and Cafe
• Carers Queensland
• Peach Tree
• atWork Australia
• Rockpool
• Dr Posture
• Philips Sleepeasy
• Lives Lived Well
• Vision Australia
• Peri-natal mental health